Marcus Scribner Net Worth - $1.5 million
If you've seen ABC's hit show
Black-ish,
then you're definitely familiar with Marcus Scribner and his impeccable comedic timing. While
Anthony Anderson
is undeniably the star of the
Black-ish
ship, one can absolutely say that Marcus Scribner is the breakout star on the show – which is saying something considering the show also stars Tracee Ellis Ross, Yara Shahidi, Marsai Martin, Deon Cole and Jenifer Lewis.
On Black-ish, he plays Andre "Junior" Johnson Jr., the son of the lead characters (Dre and Rainbow) and the typical nerd archetype. Junior is technologically savvy and a huge fan of fictional fantasy worlds which leads to him not fitting in with his more shallow family members (like his father and older sister); as a result, he does not seem to fit in much with the rest of the world. However, Junior's unique standpoint and difference from most of the show's characters is what makes him a delight to watch and allows him to create many comedic highlights of the episodes.
Besides Black-ish Scribner has also appeared in The Good Dinosaur, Alexander IRL, Castle, New Girl, Wedding Band, Wendell & Vinnie, American Dad!, and Home: Adventures with Tip & Oh.
Marcus Scribner's Bio & Age
Marcus was born on the 7th of January, 2000 at the famous Cedar-Sinai Medical Center. The Cedar-Sinai Medical Center, which is arguably one of the most well-known hospitals in the world, is a non-profit hospital in the exclusive Beverly Grove neighborhood in Los Angeles. The hospital has over 2,000 physicians and 10,000 employees. Besides Marcus Scribner, many other celebrities have been born there, including Frances Bean Cobain, Michael Joseph Jackson Jr. (Michael Jackson's son), Valentina Paloma Pinault (Salma Hayek's daughter), Harper Beckham (David Beckham's daughter) and Saint West (Kim Kardashian's son).
His name, Marcus, is gotten from Greek and Roman mythology just like his father 'Troy' and his younger sister, 'Athena'. He also has a dog named Zeus. When he was younger, he attended a mainly Jewish elementary school and took up acting when he was just seven years old after he took one acting class and fell in love with it. Initially, he was a shy kid who was primarily involved in sports. He still enjoys sports like lacrosse and basketball. He also takes a particular liking to video games.
While not a musician, Marcus Scribner also plays the Clarinet.
Parents & Ethnicity
Like his character on Black-Ish – Marcus is of mixed ethnicity, thanks to his mother.
His father is Troy Scribner, a black man and like his mother on Black-ish, his real mother is half white and half black. His maternal grandmother is from England while his father is from Los Angeles.
Career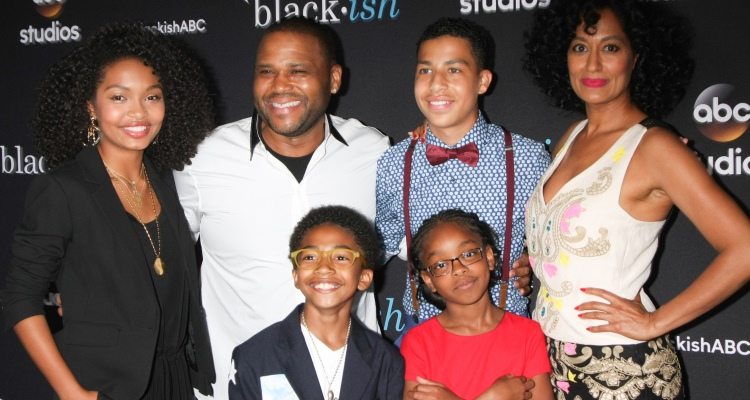 The young actor got cast in his first ABC television show, Castle after which he appeared on the Fox hit show – New Girl which starred Zooey Deschanel, Jake Johnson and Max Greenfield. He was later cast in the Nickelodeon's sitcom – Wendell & Vinnie for a little role. Marcus didn't get cast in his first major role until he was fourteen (which can be early for a lot of people) when he was cast in Black-ish.
Being cast in a major role on a major network was a big deal and a career turning point for the actor. He actually beat out Anthony Anderson's actual son, Nathan, to play the role of Anthony Anderson's character's son. To be honest, it's hard to imagine anyone else in the role of Junior. He auditioned for the role when she was only thirteen and the pilot was filmed a year later. He explains that auditioning for the role was somewhat easier for him since he strongly identified with the character he was asked to play.
For the role of Junior, he won an 'NAACP Image Award for Outstanding Performance by a Youth' in 2016. Other actors to have won the prestigious award include Denzel Washinton, LeVar Burton, Raven-Symoné, Keke Palmer and Lynn Whitfield. It is safe to say, that in such a prestigious league, his career is off to a good start.
Girlfriend
Since his rise to fame, while there has been news about his personal life here and there, there have been no reports of his girlfriends. His love life has been notoriously quiet which can be understandable considering his age.
However, on the fictional front, his character on Black-ish – Junior was in a relationship with a white blonde girl with blue eyes. His bi-racial relationship was a subject of the episode plot as Junior's mother struggled to deal with her unresolved feeling towards her mixed racial identity. The actress who played Junior's girlfriend is Annelise Grace, an actress & Model who is represented by Mavrick Models in Los Angeles.
Marcus Scribner Height, Weight And Other Quick Facts
Full Name
: Marcus Scribner
Height
: ‎6 feet 1 inches (1.85m)
Weight
: 70 kg or 154 pounds
Date of Birth
: January 7, 2000
Place of Birth
: Los Angeles
Astrological Sign
: Capricorn